The Ultimate Guide to Using Hemp Oil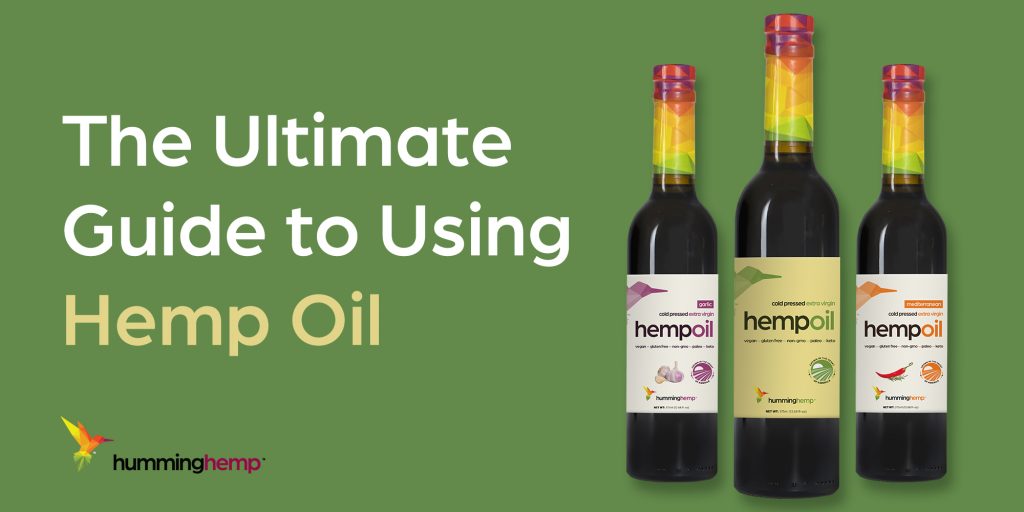 You've recently learned that hemp oil is good for nearly everything. But what good is it if you don't know how to use it? Look no further here is the ultimate guide to using hemp oil. 
To use hemp oil to the fullest, apply it inside and out. Hemp oil can be placed on the skin and in recipes. Whether you eat the superfood or use it as a moisturizer it will help with eczema, acne, pain, and more. 
The benefits of hemp oil can be seen in your hair and on your skin. Some of the biggest benefits can't be seen, however, as hemp oil also helps with weight loss, inflammation, digestive, and immune health.
Keep reading to learn more about the benefits of hemp oil and how to use it. In this ultimate guide, we'll give you 20 ways to use hemp oil today. 
Guide to using hemp oil topically
The easiest way to get started using hemp oil is to use it topically on your skin. All you'll need to do is massage the oil into any trouble areas to begin seeing moisturizing results. Of course, there are ways to get more creative, such as using hemp oil for steam facials. 
Hemp oil is great for hair, skin, and nails because it's filled with vitamin E. The vitamin is an antioxidant that gives your skin protection from the sun, reduces wrinkles, and hyperpigmentation.
Vitamin E is only one of the nutrients found in hemp oil, so let's go into detail about the ways you can use hemp oil topically to keep your skin glowing and help what's under your skin as well.
Ways to use hemp oil topically:
1. As a moisturizer
The best and easiest way to use hemp oil to benefit your hair, skin, and nails is as a moisturizer. Hemp oil works best as a daily facial moisturizer. However, if you are looking for a seriously relaxing and deep moisturizing session you can have a spa day using hemp oil. Simply give yourself a steam facial and alleviate dry skin, while you relax.
2. An overnight mask
If you are looking for a simple way to get a deep condition you can always use hemp oil overnight. There's no better way to moisturize trouble areas than with an overnight soak. The best part about hemp oil is that it works anywhere. You can create an overnight mask for your face, your feet, or with wet wraps for eczema. 
3. A hair conditioner
Conditioning your hair is an important step. No matter what kind of shampoo you use, you risk drying your hair out. Hemp oil can work for you as a replacement for any hair conditioner you have. 
Whether you need a hot oil treatment before a wash, a quick conditioner after, or a deep condition you can use hemp oil. 
If you love your conditioner but want to give it a boost, simply add a bit of hemp oil to your conditioning process. When you're all done rub your scalp and the ends of your hair with hemp oil. There's a process for you whether you've got dry or oily hair, that's the beauty and versatility of hemp oil.
4. As an eczema and itch reliever
Hemp oil works specifically to relieve skin conditions that are caused by inflammation. Hemp is an anti-inflammatory, antifungal, and antibacterial oil. This means it fights against the bad inflammation caused by eczema that causes the itch. Hemp oil also helps strengthen your skin barrier to reduce flare-ups from recurring. So whether you have flares due to eczema or other skin conditions hemp oil can help soothe the itch. 
5. To strengthen and repair nails and cuticles
The vitamins and minerals in hemp oil are designed to help with dryness. Which means it can help moisturize your cuticles and nail beds. Even more impressive is over time hemp oil can help your nail beds and cuticles grow stronger.
The calcium and omega fatty acids in hemp oil actually help your nails repair themselves and grow long and shiny. All you need to do to use hemp oil to strengthen your nails is moisturize with them daily. 
6. To stop dandruff and relieve scalp psoriasis
Hemp oil works on eczema by rubbing it on the skin, but even harder to reach places can benefit from hemp oil. Gently massaging hemp oil into your scalp can help loosen any dandruff and treat scalp psoriasis. A gentle massage helps get the blood flow going and reduces inflammation caused by psoriasis. 
This is also a case where hemp oil works from the inside and out. Taking hemp oil internally also works to help with inflammation of the scalp.
7. To reduce acne
While spending time searching for the perfect acne meditation, you don't need to look any further than hemp oil. This one ingredient moisturizer has a low comedogenic rating that will help reduce acne and keep it from coming back.
8. As a makeup remover
Hemp oil can be used as a fast and effective makeup remover. You can clean your face while moisturizing it. Simply place hemp oil on a cotton pad and wipe away makeup. Once you're done give your face a gentle rinse and you'll have a clean and moisturized face. 
Have dry skin? You can leave a bit of oil on your face to moisturize after washing off your makeup.
9. As a bath oil
If you need to relax while you take care of your skin, then use hemp oil as a bath oil. Add hemp oil to the bath with your favorite relaxing bath additions and soak. You'll come out with soft skin that is moisturized and relaxed.
10. As a topical pain reliever
Hemp oil can be used to treat the pain in your joints and body. Unlike CBD oil, which is also used for pain, hemp doesn't contain any CBD or THC. Once a hemp plant seeds the presence of CBD and THC virtually disappears. However, the hemp plant itself has properties to reduce inflammation and pain. Use hemp oil while massaging the skin to release tension in achy muscles and joints.
Guide to using hemp oil internally
Hemp oil can be used internally for multiple benefits. Hemp seed oil happens to also have a wonderful taste. Add hemp oil to all of your favorite recipes that need an omega fatty acid boost.
Taking hemp oil orally can help with any risk of skin irritation you may have when applying the oil to your skin. It's also a good way to double up on hemp oil benefits if you do use hemp oil topically.
How to use hemp oil internally:
1. Take a spoonful
If you learn how to use hemp oil in your food you can easily apply the benefits to your daily habits. However, if you're not much of a chef, you can also take hemp oil as a supplement and save on time. Take a spoonful to get the benefits in a quick and easy way.
2. Make an immune-boosting drink
Another great way to ensure you get the benefits of hemp oil quickly is to drink it. The combination of hemp oil and apple cider vinegar (ACV) is great for the immune system and can give you an energy boost. Try our immune-boosting drink in the morning to get your day started with vitamins C and antioxidants.
3. Add it to your coffee or cocoa
If you aren't one for the taste of ACV or want more than a shot for a drink try adding hemp oil to your coffee or hot chocolate. Both hemp oil and hemp protein powder make great additions to your morning beverages adding in the omega fatty acids or protein you need. Either way, you get vitamins to carry you throughout the day with the tasty flavors of your favorite morning beverage. 
4. Use it as a spread or in a dip
Without the need for too many skills in the kitchen, you can make hemp oil into a dip or a spread. Take a spoonful of hemp oil and spread it on your toast in the morning instead of butter. 
If you love bread with dinner you can also take hemp oil, add herbs and spices to make an italian dipping oil. All you need for a simple dipping oil recipe is red pepper flakes, parmesan cheese, garlic, and italian seasoning.
5. As a drizzle on your favorite foods
Hemp oil makes the perfect final touch on all things vegetables. Use it to drizzle over roasted vegetables straight out of the broiler. A hemp oil drizzle adds flavor and a final bit of moisture. Using hemp oil in this way gives you the opportunity to experiment with different flavors as well. Garlic hemp oil makes a nice addition to roasted vegetables and all your dinner recipes. 
6. As a base for a dressing
All dressings need oil as a base. The next time you decide to make a salad dressing with olive oil, replace it with hemp oil instead. This gives you a quick and easy way to take the oil orally with your lunch without interfering with your regular diet plans. 
7. Inside your pasta sauce
Hemp oil works as a quick booster to recipes and sauces that are already done as well. If you are looking for a way to incorporate hemp oil at the end of the day try stirring it into your pasta sauce as the last touch. Pasta sauce has a great way of hiding vegetables for picky eaters, why not give them a boost of omega fatty acids as well. 
8. In a smoothie
A smoothie or shake is the best way to get all the nutrients you need for the day in one cup. But if you're feeling like you want to make it interesting, make your very own smoothie bowl. 
You can blend hemp oil right in with your fruits and veggies. However, you also have the option of saving your hemp oil as a topping. Top your smoothie bowl with berries, coconut shavings, hemp hearts, and drizzle with hemp oil. This gives you the hemp oil flavor in every spoonful. 
9. As a moistening agent for finished baked goods
It's true you shouldn't heat hemp oil over 300 degrees. Don't cook with it at high temperatures if you want to keep the flavor and avoid the smoke point. 
However, you can still use hemp oil to cook in recipes that require low heat to get the job done. The best way to cook with hemp oil, however, is to add it to your roasted or baked goods when they're done baking. 
To use hemp oil as a moistening agent for baked goods think of it as a finishing oil. When your hot bread or muffins come out of the oven, drizzle hemp oil on top before you place them on the cooling rack. That way you warm your oil, flavor your food and keep all the nutritional benefits. 
The hemp oil acts as a finishing touch of fat adding moisture to the more crisp or dry tops of your baked goods. A moistening agent contributes to the eating quality (or mouthfeel) of your bread and pastries. Think of hemp oil as the mayonnaise on your sandwich or in this case the butter on your muffin.
10. In cold dishes
Cold recipes are the best on hot days. A cold pasta salad or bean salad is an easy way to incorporate hemp oil by adding it to dressing or as a marinade. 
Of course, one option is to make a dip and blend hemp oil into salsa, guacamole, or hummus. For something cool, refreshing, and new you can also use hemp oil in a cold soup also known as gazpacho. Blend hemp oil right into your soup or drizzle your gazpacho as a finishing touch. 
If you're not up for gazpacho try using hemp oil as a marinade for ceviche or steak carpaccio. You can get really creative with hemp oil if you're willing to try new dishes. 
Summary: Using hemp oil
Hemp oil can be used in so many ways that we needed to make an ultimate list. These tips will get you started using hemp oil inside and out. For best results try using hemp oil both internally and topically. 
The benefits of using hemp oil will dictate the best way for you to use the oil. Whether you decide to start with a spa day and use hemp oil as a steam facial, in a bath, or as a conditioner your hair, skin, and nails will thank you. 
Be sure not to stop there and try something new in the kitchen to take hemp oil internally as well. Not only will your skin thank you, but your immune system and digestive system will too. 
Once you learn how to use hemp oil in food, you'll come up with amazing recipes. We'd love for you to share them with us. So get started with your hemp oil today and let us know how it's going.