How do I Start Clean Eating: For Beginners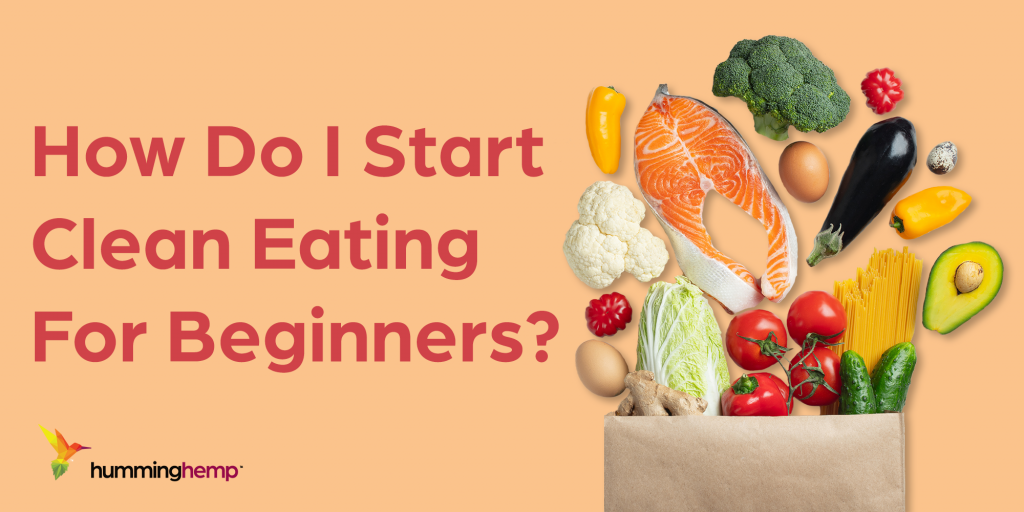 Eating clean can seem like a tough task, but it doesn't have to be with the right food choices. If you're wondering how to start clean eating you only need a few tips to get started. Here's a guide on how to start clean eating for beginners.
To start clean eating, stock up on easy to cook whole foods and cut out processed sugar. After getting through the difficult task of learning what food is allowed, clean eating is easy. 
Instead of feeling like you're on a diet, you'll have a clean eating lifestyle that will improve your health. The benefit of choosing nutrition over dieting is you'll still lose weight. 
If you started clean eating for weight loss, don't worry you will lose weight and keep it off. Keep reading to learn how to start clean eating easily, so you can start strong and continue every day. 
What should I buy for clean eating?
For clean eating, buy whole foods that are easy to cook and that you love. It's better to start off with a grocery list of foods that includes favorites and adds in a few new items. This method expands whatever current diet you're on while giving you the opportunity to cook familiar dishes. 
When you shop, stick to the outer aisles first. The produce section, with the whole foods, are where you'll shop most when clean eating. As you'll see with this list, though, a few foods are in the nuts, seeds, and natural food sections.
Clean Eating Shopping List:
Vegetables

Low Sugar Fruits

Healthy Fats (Avocado,

Hemp Oil

)

Whole Grain Bread

Whole Grain Pasta

Beans and legumes 

Nuts and Seeds

Clean Sweeteners (

Raw Honey

)

Water
Each food on this list is a simple starting point. As long as you are choosing whole foods that are as close to their original form as possible you are on the right track. 
What can I snack on when eating clean? 
When clean eating, snack on whole foods that don't contain preservatives and added sugar. It's best to eat homemade snacks on a clean diet. Most chips, dips, dried fruits, and jerky can be made at home without the added sugar and preservatives found in the store. 
Choose foods that contain protein, healthy fats, and unrefined carbs. These macronutrients have health benefits that give you energy, heart health, and strong muscles. 
Here are a few snack ideas that mix and match whole foods.
Veggies and hummus

Guacamole 

Lunch meat wraps 

Jerky 

Smoothies 

Roasted and flavored nuts and seeds

Baked fruit chips (apple)

Dried Fruit (no added sugar)

Seasoned Tomato slices and Cheese

Cheese and whole-grain crackers

Hemp hearts

Pickles

Homemade popsicles
The best snack for clean eating is the Humming Hemp hummingbar. Hemp bars are made with all whole food ingredients with no added sugar and preservatives. Each bar contains at most nine ingredients, with some of them only coming in at five.
The all-natural hemp bar is as convenient as grabbing a protein bar off the shelf for something quick and easy on the go. The difference is, unlike other protein bars, you won't ruin your clean eating diet because every ingredient is made with real whole food. 
The best part about hummingbars is you get powerful nutrition. Hummingbars contain 10g of protein, all essential omega fatty acids, and 8 vitamins and minerals. 
Tips for clean eating beginners 
Now that you know what to buy and what to snack on all you have to do is get started. Head out and get your list of food and follow a few tips for clean eating beginners.
Deal with your sugar intake
Clean eating means you can't eat refined foods and sugars. Raw honey and maple syrup are considered acceptable for a clean eating diet because they are all-natural. 
However, you will need to be careful you're eating raw honey and pure maple syrup. Not all honey and maple syrup are what they claim to be. In fact, many of the syrups on the shelf are really high fructose corn syrup.
If you are diabetic be careful because honey and syrup contain glucose, so you should still limit them in your clean eating diet.
Understand what whole food really means
Whole foods haven't been processed or had any ingredients added to them. This can leave a wide range of foods that are "whole food," but aren't in their original form. 
Clean diets like Whole30 are very strict and want you to stay as close to an apple as possible., however, applesauce is still clean. Eating clean means eating as close to that original form as possible, not eliminating every food that's not in its original state. 
That means if you take a peanut and grind it into peanut butter it's still clean. It's no longer clean once you add white sugar or high fructose corn syrup. If you get peanut butter off the shelf it also often contains preservatives to keep the shelf life longer. 
The peanut butter itself started off as a whole food, and will stay that way if you don't add anything when you grind it at home. Making better choices like making your own peanut butter,  help you keep your favorite foods in your diet, but without the bad additives. 
Hummingbars for example, are certified clean because they are multiple whole food ingredients naturally put together.
Know the difference between Organic and Non-GMO
Most clean eaters spend a lot of time choosing only organic foods. While organic sounds great and like you've chosen correctly for your diet, it's not always the only choice. Just because a food isn't organic doesn't mean it's genetically modified or a GMO. 
Take hemp hearts for example. Hemp hearts don't need to be organic because they are already all-natural. Hemp requires no herbicides or pesticides in the process. In fact, hemp is regenerative, meaning it cleans the soil it's planted in.
Organic is all about the soil. For something to be organic it must be grown in soil that is free of synthetic fertilizer and pesticides for three years. So, while supporting small and mid-size farmers to get a badge you'd have to wait for three-year crop rotation in the soil.
So some foods may not have the organic seal but can still be all-natural and free of harmful chemicals. Think about a farmers market, most products are safe with the exception of a few things, like corn.
When clean eating, you will want to avoid GMOs. You'll save yourself a lot of time and money in the beginning if you choose foods that you love that are safe, without focusing on organic labels. 
Take a look at this non-GMO list of foods to get you started and you'll see there are plenty of options. When in doubt, read the ingredients label and it will tell you everything you really need to know. 
Stay away from vegetable oils
Cooking your food in oil can be tricky if you aren't careful of blends. The truth is most vegetable oils contain preservatives that you wouldn't expect. They are extracted using chemicals.  All-natural oils like olive and coconut are extracted from whole food without unnatural processing. 
Even spreads like margarine aren't approved for clean eating. Instead use an all-natural substitute like hemp oil for your spread. 
Hemp oil will fuel your clean eating diet; it contains heart-healthy omegas and vitamins. Humming hemp even has a 50/50 Hemp Seed & Olive Oil blend with California Olive Ranch that combines the best of the best clean oils. 
Cook at home
When in doubt don't get take out. It's best to cook your meals at home so you know exactly what you are eating. 
While this may sound daunting it doesn't mean you can't prepare foods that are easy to grab for when you're at work, school, or on the go. 
Cooking at home also doesn't mean your dinners have to be elaborate. Simply steaming your vegetables is easy and better for you; it also doesn't take much time. Clean eating can be fast and easy with real benefits. 
When you eat clean you get more antioxidants, fiber, and get full faster. Whole foods are more filling, they take up more space in your gut. And once those foods make it to your gut you'll have better gut health. If you choose your food correctly, without much planning you'll get less sugar and triglycerides simply because your food won't contain them. 
Clean eating with all-natural food like hemp is the best way to get the health you desire. Everyone wants weight loss, but powerful nutrition is what matters most. Eat right and the pounds will come off naturally. 
Clean eating recipes with hemp
We've got a few clean eating recipes with hemp so you can get started on your clean eating journey today. Some of our keto recipes are clean as well, so take a look at them all to find your favorite. 
Whole30 Approved Protein Shake Recipe
Don't be afraid to try something new. Many of our recipes are clean because we know eating that way is the best. When you choose Humming Hemp products you can be sure you're eating clean.
Summary: Clean eating for beginners
Clean eating doesn't have to be hard, even for beginners. Once you've got your grocery list down to your favorites all you need to do is get started. 
Stock up on hemp products and whole foods, the rest is history. Follow the beginner tips like staying away from added sugar, vegetable oil, and cook at home. Use the non-GMO food list and our shopping list to help you get started. 
With the right list, it'll be easy to find snacks and follow our clean recipes. In fact, give some of our recipes a try today.
Get the supplies you need online or from a store near you. As always, share your recipes with us, so we can give them a try too.