Dairy-Free Snacks for Happy Healthy Kids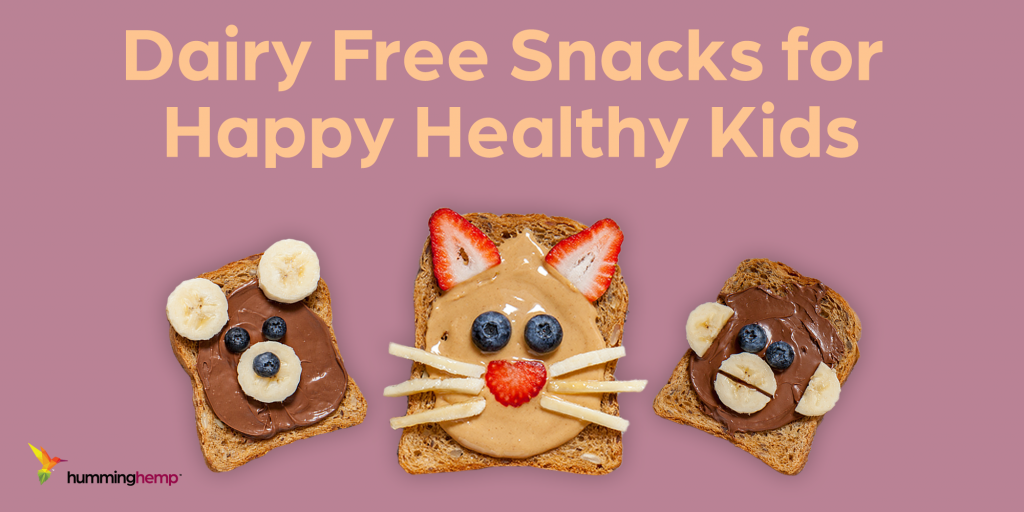 The most common allergies for babies and children are milk, eggs, and peanuts. As your child grows you begin to see that dairy products are everywhere. It can be hard to find dairy-free snacks for kids. 
The best dairy-free snacks for kids are relatively healthy and don't contain a ton of added sugar. Just because a food is dairy-free doesn't mean it has to be an unhealthy snack. Plenty of store-bought and homemade snacks are delicious substitutes for dairy-laden snacks. 
If you use a little creativity and know where to look you can find a snack that is better than the original dairy version. In the end, you'll have happy healthy kids that benefit from nutritious food they love and didn't know was good for them. 
Whether you are on the go or are on homemade snack duty for class, you'll have everyone's favorite. Keep reading this list so you can have the dairy-free snacks that everyone will love. 
Dairy-Free Snacks for Kids
When choosing dairy-free snacks for kids be sure to start with whole foods and plant-based milks. Look for basics that can be easily mixed and matched with any store-bought or homemade treats. Whole fruits and vegetables alongside nuts, seeds, healthy fats, and whole-grain crackers and bread are the best way to go.
Don't forget that you can choose plant-based substitutes to save the trouble of choosing at snack time. Dairy-free snacks for kids have come a long way. There are more options with the addition of plant-based milk in the market. 
Start with choosing a milk substitute that tastes great and works with any allergies in the family. For example, choosing coconut milk as your favorite will lead you in the direction of a treasure trove of coconut milk-based treats. 
In fact, as your little one grows if they can't have dairy schools will ask which substitutes are appropriate, so it's best to have a list of your favorites. 
Try plant-based milk in yogurt, cakes, and ice cream made with soy, oats, almonds, and coconut. The sky's the limit as we all learn more about the dietary restrictions and dangers of food allergies that are rapidly growing.  
Dairy-Free Snacks for Happy Healthy Kids - You can Buy
Kids constantly ask for snacks, so the best options should be easy to grab, but nutritious. With a dairy allergy, it can be harder to find grab and go snacks. 
On a road trip for example, looking through the gas station for a quick snack isn't as easy for allergy parents. You'll have to prepare a little early to have something to help with restlessness and to avoid tears. 
Luckily, it's possible to prepare and even find something quick and easy on the go if you know where to look. 
Snacks you can buy are best because they don't require any preparation. If you can find healthy snacks on the go before or after school and work you'll save yourself a ton of time. Here are a few dairy-free snacks you can buy.
Hummingbars 
Humming Hemp hummingbars are the best option for a snack that gives your child all the vitamins and minerals they need. It's a filling tasty snack that's perfect for dairy-free kids.
The sweet treats contain vitamins and minerals that your kids won't know are there. With only between 6 to 9 ingredients this whole food protein bar is the perfect addition to snack time. You won't have to worry about giving your kid preservatives or added sugar.
Humming Hemp hummingbars contain all the essential amino acids plus healthy fats. So if you're looking for dairy-free sweetness and snacks with protein hemp bars are the way to go. 
Hemp Hearts 
It's no secret at this point that our favorite snack is hemp hearts. Hemp hearts are free of the top 8 allergens, and even the newest allergen - sesame. 
Original hemp hearts are also gluten-free, nut-free, and vegan. Part of the reason it's so great for people with allergies is that it's all-natural. Read the label and you'll see one ingredient that's safe for everyone, even babies and toddlers. Use this certified snack to boost all of your snacks with flavor and nutrition.
If your kid can handle spice try the spicy hemp hearts to add omega fatty acids, protein, and vitamins to your road trip or baked goods. Don't worry if you're not into spicy the original raw hemp hearts and Honey Aleppo hemp hearts give you sweet and nutty options as well. 
The great thing about hemp hearts is that they also work for foods that you can make at home. Hemp hearts are great for baking and sprinkling on top of other snacks like popcorn to add flavor and nutritional value. 
Ginger Snaps 
Ginger snaps are a cookie that doesn't have a lot of popularity these days. They are lower in calories than a lot of other cookies you'll find on the market. The key component is the ginger that these cookies contain. Ginger is anti-inflammatory and helps with nausea which is why ginger snaps are a staple on sick days.
Crackers
Many crackers are actually dairy-free and make great snacks on their own for small toddlers. But crackers also make a great base for holding other healthy snacks. You can use them to load up with meat, vegetables, spreads, and dips. If you really want to make this a healthy treat choose whole-grain crackers with lots of dairy-free flavors.
Ritz, Tollhouse, and Club crackers are all very popular and dairy-free brands if you choose the original. Just be sure to always double-check the label because ingredients can change. 
Graham Crackers 
Graham crackers are another option for crackers, however, they are more like a cookie. This staple isn't the healthiest treat, but it's easy to find and is recognized by all kids. Graham crackers are a simple snack that everyone in the carpool can enjoy without worry. 
Earth Balance Vegan Cheddar Squares
These cheese squares taste very similar to a popular cheese snack on the market. If you've ever had cheese you'll be shocked at the taste. Your dairy-free kid will love these and they make this list because it'll be something friends who eat dairy can be familiar with as well. 
Applesauce
Applesauce, especially in pouches, are easy treats on the go. Kids love applesauce and parents love getting their kids to eat fruits and vegetables. You have the option of getting GoGo Squeez on the go applesauce snacks with veggies blended right in. Perfect for picky eaters who hate vegetables. 
Dairy-free yogurt
Dairy-free yogurt comes in soy, almond, oat, and coconut milk. They come in multiple brands and you can find them in the dairy aisle right alongside the rest of the yogurt. All of these options give you variety that works for at home or on the go. There's even a dairy-free Go-Gurt available now, which are easy to pop in the freezer for a fun frozen yogurt treat on the go.
Kale Chips
Any kind of dairy-free chip is a good snack on the go, but some are healthier than others. Kale chips and other vegetable chips are available in dairy-free options with a ton of nutritional benefits.
If you're not a fan of kale, try chips made from sweet potatoes, coconuts, parsnips, and even dried apple chips. While this is about store bought, you have the option to make your own kale, spinach, or fruit chips at home in an air fryer. 
Seaweed Snacks
Seaweed snacks are crispy little strips of seaweed with different flavors on them. The thin squares have all the benefits of seaweed with a great taste. You get the benefit of a dairy-free snack and the vitamin A and C found in seaweed.
Dairy-Free Snacks for Happy Healthy Kids - You can Make
Sometimes the best is homemade. You can choose the ingredients and you can have fun making treats with your little ones. 
Try some of these dairy-free snacks to keep your kids happy and healthy. 
Hemp Heart Protein Balls
Our hemp heart protein balls are fun to make and taste great. Although you make them at home they also are easy to pack up to take with you on the road. This dairy-free treat has all the benefits of hemp hearts with a sweet taste of nutrition. 
Healthy Hemp Protein Cookies
Cookies are the best way to get your kids to eat. Suddenly when it's snack time they are always hungry. Give them a cookie that they won't know is a healthy treat. All they will see is dairy-free chocolate chips and you'll see the vitamin A, iron, and calcium in hemp protein. 
Homemade Granola
Try our hemp heart granola recipe for a healthy treat that can add a nutritional boost to other treats as well. Use this granola to top dairy-free yogurt or make a trail mix. If you're in a hurry just pop your granola in a bag for a snack on the road. 
Muffins
Muffins hold a lot of dairy-free snacks inside and can be made sweet or savory. Veggies, fruits, nuts, and seeds can all be added to muffins to make the perfect snack with your favorite flavors. Bag up your ingredients for quick bento boxes full of dairy-free snacks later. Try a dairy-free blueberry muffin recipe and top it with hemp hearts for added nutrition. 
Hummus
Pita chips are a great dairy-free snack on their own that you can find in the store or make at home yourself. Along with other dips like guacamole and salsa, hummus has become a dairy-free staple. 
Hummus is an especially good choice because it's easy to make from the healthy chickpea. Hummus will taste great and load you up with omegas, calcium, and iron. Just imagine what adding even more nutrition with hemp hearts, hemp oil drizzle, and fresh veggies will do. 
Rice Crispy Treats
At first glance, you might think marshmallows contain dairy, but they don't. Rice crispy treats aren't the healthiest snack on this list, but you can make this snack a bit healthier. You can substitute butter and add in peanut butter, hemp hearts, and more ingredients to make this snack a healthier option. Made good has a store-bought version that is made with vegetables, but nothing can beat the fun of mixing messy marshmallows together. 
Homemade Fruit Snacks
Homemade fruit snacks are like candy. While you can get store bought fruit snacks and dried fruit you should try this homemade option every once in a while. It's a fun activity to try with the kids and you ensure they get a treat that's made without preservatives. They get a sweet treat and you get peace of mind. 
Summary: Healthy Dairy Free Snacks for Kids
Healthy dairy-free snacks for kids can be hard to find at first, but once you get into a rhythm you'll realize you have options. 
Store-bought snacks like hemp hearts, hummingbars, and kale chips give you healthy options on the go. If you have more time you can always make fun cookies, protein balls, and granola at home. 
Either way, you can find a good combination of dairy-free options that you can buy in the store or make at home that you can carry to the next carpool. 
Stock up on the ingredients you need online or in a store near you and get started trying some of our recipes. Find more recipes on our blog and let us know how much fun you have at snack time.