What you need to know about cooking with hemp hearts
What do you need to know about cooking with hemp hearts? 
Hemp hearts can be cooked by heating, toasting, baking, or used as a raw topping. Soak hemp hearts for a soft chewy texture, and add them to soups and smoothies. Hemp hearts work great for all meals and desserts.
Honestly, there is a lot less to worry about than you'd think. 
Hemp hearts don't require any thaw time, like frozen meat, any hospital-grade cleaning techniques, like raw meats. You don't have to worry about special temperatures, dishes, or tools. 
You can pretty much just grab-and-go when it comes to cooking with hemp hearts. Hearts make an excellent substitute in so many recipes.
Whether you're baking, snacking, or just trying to get out the door on time in the morning, there is definitely a way to put more hemp in your day and more hum in your heart! 
What are hemp hearts? 
Hemp hearts are the soft center of the hemp seed. A hemp heart has an earthy, but nutty-flavor that works well as a snack or for cooking. Hemp hearts contain numerous health benefits, but are an excellent source of omega fatty acids.
In a nutshell, or actually, not in a shell, hemp hearts are from the Cannabis sativa plant. However, they're not in the same group as all the CBD products you hear about! 
Hemp hearts are the hulled seeds of the plant. They are chewy, slightly nutty, incredibly nutritious, and supremely versatile as to how and with what you can eat them!
Can you cook with hemp hearts?
You can cook with hemp hearts. Hemp hearts are 100% safe (and yummy!) to eat raw and straight from the bag. Cooking with them, on the other hand, is a totally new and worthwhile taste and nutritional experience! 
Some of you may be wondering why you would want to cook the hemp hearts if they're edible when raw. When cooked, the nutty flavor of hemp hearts becomes a bit more prominent. Cooked hemp hearts can add some new and tasty flavors to boring old recipes! 
Similar to how you can purchase both raw and roasted sunflower seeds, using a cooked version of hemp hearts may be something your palate can't get enough of! 
For example, take a simple peanut butter cookie recipe. 
Some people might like to add oatmeal to the recipe for some extra fiber, flavor, and texture. Consider adding hemp hearts instead. Hemp hearts complement the already nutty cookie, plus adds fiber, and a wealth of extra nutrition as well! 
If you want to simply toast the seeds and enjoy a slight crunch and more prominent flavor, you're in for a treat of a snack! Or by simply adding the raw hemp hearts into many of your favorite recipes (or new, healthier versions of them!), you'll be able to easily boost the nutritional value, even of foods typically saved for dessert! 
How do you cook with hemp hearts?
Hemp hearts can be heated, toasted, baked, or used as a raw topping. The hearts are a versatile ingredient which can be used in many meals or desserts.
There are many ways to cook with hemp hearts, but it depends on the recipe you're making. You can use hemp hearts as the main ingredient, an add-in nutritional booster, or simply as a topping to add a little texture. 
We'll start with the hemp seeds themselves, and work our way up to cooking them into a recipe. 
Cooking methods for hemp hearts
Heat or toast your hemp hearts. It's as simple as tossing them into a pan or skillet over medium-low heat. Remove hemp hearts when they start to turn a light golden brown. 
A huge benefit of making this tasty, standalone snack is that extra cooking oil isn't needed since they're the source of hemp oil and self-oiling while cooking! Because hemp hearts are so versatile you have the option to add to a cooking oil for flavor or moisture. Some people add more oil when roasting hemp hearts others do not, the choice is yours.
Baking hemp hearts at too high of a temperature can break down some nutritional qualities, like the omega fatty acids. So it's best to toast them on the stove, low and slow, and not in the oven. 
You can use hemp hearts as a raw topping, similar to flax seeds or chia seeds. They go great on top of salads, oatmeal, cereal, or even ice cream! 
Another way to cook with hemp hearts is to use them to boost your recipes for a little extra nutrition. You'll be adding powerful nutrition whether the extra texture or flavor is the goal or not. 
Sprinkle, grind, toast, or just enjoy them raw. You won't regret keeping your kitchen stocked with these little beauties! 
Can you soak hemp hearts overnight?
You can absolutely soak hemp hearts overnight! This is essentially how our overnight "oats" hemp hearts recipe is made! 
With an overnight soak, you'll find the texture of the hearts has softened. Hemp hearts will become a bit chewier than their raw counterparts. 
Do you have to soak hemp hearts?
We love our raw hemp hearts as they are. Most of the time we just eat them as they are (straight out of the bag may be our favorite)! 
But if you want to experiment with soaking raw hemp hearts, then by all means do so and find out what soak time leads to your favorite new texture! 
Can you put hemp hearts in soup?
Adding pulverized hemp hearts makes an incredible replacement for any soup that calls for a "creamy" ingredient. Voila! You've made a dairy-heavy recipe into a dairy-free alternative! 
For a more gluten-friendly option, you can try swapping out barley in beef and barley stew. Doing so will retain a similar chewy/crunchy sort of textures. 
Another idea is to use the raw hemp hearts as your protein source. 3 Tablespoons of hemp hearts packs in 10g of protein! Instead of chicken noodle soup, try making some hemp noodle soup instead. Hemp hearts actually offer more protein per ounce than chicken! 
How do you eat hemp hearts in a smoothie?
You can add hemp hearts by the spoonful to give your smoothie a thicker, creamier texture. Run hemp hearts through a blender or food processor to create a smooth texture. For the smoothest of smoothies, add hemp protein powder instead.
Another option is to simply sprinkle the hemp hearts on top. Your smoothie will have a little bit of "chew" to it. This is a great trick to make a smoothie feel more satiating when you're trying to lose weight! 
Adding hemp to your smoothies is an easy and nutritious addition. 
How many hemp hearts should I put in a smoothie?
Many hemp heart smoothie recipes call for around an ounce (just under ¼ cup) of hemp hearts. An ounce is in line with the recommended serving size of hemp hearts. People new to hemp hearts may want to reduce the serving size.
Hemp hearts are high in fat, which may upset your stomach. There is such a thing as too much fat at once!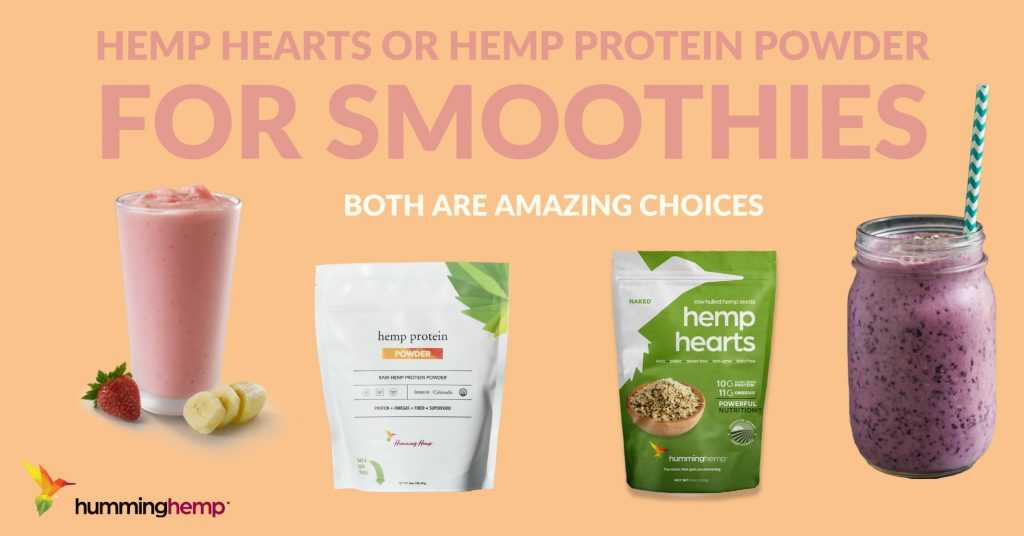 What types of food can you use hemp hearts in?
Hemp hearts, as you may have noticed, might be one of the most versatile foods on the planet! From breakfast to dessert, you can find ample options for recipes that would benefit from adding hemp to them! 
We've got a selection of our favorite hemp heart recipes below. You'll be sure to get extra plant-based nutrition our bodies love! 
Breakfast
One of the best ways to have a great day is to start it off with a great breakfast. Adding in more protein, perfectly balanced fatty acids, and a seriously delicious taste will set your day on the right track! 
Hemp-Sprinkled Breakfast Plate
You can simply sprinkle the hemp hearts over top of your cooked eggs for a protein boost your mouth will water for! 
Are you more of a yogurt with toast sort of breakfast person? Try making this homemade Hemp Heart Granola to add a chewy protein boost and make your yogurt even healthier. 
Lover of all things fall? You'll definitely fall in love with this perfect breakfast recipe for autumn! 
Main dishes
Dinnertime, when you cook with meat, can be an absolute headache. Did you grab what you needed from the grocery store? Or did you thaw the meat from your freezer on time? 
Hemp hearts are shelf-stable and always ready when you are. As you know, shelf-stable can help make your dinner prep that much less hectic! 
This classic chicken-based Spanish recipe takes on a whole new flavor when made with hemp. 
Leave out the hemp oil drizzle, or just lighten it, and replace some of the rice with hemp hearts. Adding hemp hearts will give a protein boost for your Taco Tuesday meal! 
Vegetarian Black Bean Sweet Potato Chili
This recipe technically doesn't call for hemp hearts. However, there is no reason you couldn't swap the hemp oil drizzle in favor or hemp hearts tossed right into the cooking chili instead! 
This is an instance of taking a classically meat-heavy recipe and making it just as protein-rich but vegetarian instead! 
Sometimes you just need a little more pizzazz for your dinner. Replace the usual breadcrumb coating and try this delicious, hemp-crusted chicken recipe instead! It packs the protein and the flavor, and would make a great pairing for a chicken parm meal! 
Superfood Tacos with Hemp Guacamole
Yet another recipe to spice up your week, be in on Mexican Monday or Taco Tuesday…or "Whatever Works Wednesday!" (That's a thing, right?)
Need a little something new for the grill? These deep pink-tinged burgers are incredibly nutritious and a great replacement for your traditional meat or veggie burgers! 
Soups
Few things say "comfort food" on a chilly fall or winter day quite like a warm, delicious bowl of soup. But so many soups are calorie-dense and somewhat nutritionally lacking that their tiny serving size bowl doesn't quite satisfy as it should. 
All of these soups are hearty enough and healthy enough to satisfy your every cozy whim! 
Vegan Asparagus, Leek, & Hemp Soup
Mmm. Creamy, flavorful comfort food perhaps at its finest. You won't miss your dairy-based creamy soups with this recipe on hand! 
Vegan Creamy Broccoli Cheese Soup
Broccoli Cheddar soup is pretty much on every soup menu at every restaurant. It's THAT popular, and THAT good. The hemp hearts shine here as a major player in the "cheese" sauce, to make this a completely dairy-free, vegan alternative version! 
Creamy tomato soup is the perfect warm-up. Paired with a piping hot grilled cheese sandwich, it takes many of us right back to our childhoods. 
While it's hard to make a grilled cheese sandwich that's vegan-friendly, this creamy tomato soup is PERFECT for a vegan diet (or any diet)!
Side dishes 
Hemp hearts are great all on their own, but they like to share the spotlight now and again. Try some of these side dishes to make a more nutritious dinner plate for your family. 
Replacing the wild rice with hemp hearts makes this classic pilaf recipe keto-friendly, but without sacrificing a delicious flavor! 
Broccoli seems to either be loved or despised across the board. Try this super simple recipe and see if you can't sway a few new broccoli lovers! 
Here is a super healthy little number and in a super cute serving too! Few things are more satisfying than a salad with a good crunch, and this one definitely delivers! 
Turmeric Roasted Cauliflower with Hemp Seeds
Cauliflower has quickly become a gluten-free staple, but it's no less valuable as just a simple little vegetable! Take the flavor up a notch for pickier palates with this delicious hemp hearts side dish recipe! 
Snacks
Snacking shouldn't just be something you feel like you have to do to get more healthy foods in your day. It should be for when you're hungry or even when you need a (ok, preferably healthy) pick-me-up! 
You can eat our hemp hearts straight from the bag, but sometimes that's too boring for your day. Did you know our hummingbars® are made with hemp hearts as the first ingredient? 
Save yourself a TON of time by simply stocking up on these travel-ready snacks! 
Ok, so maybe s'mores aren't what you'd consider a typical snack. But these tasty little things ARE part snack in our book since it's made with our super delicious and powerfully nutritious hummingbars® ! 
Hemp Heart Energy Protein Balls
These are super easy to make and even easier to eat…too many of! We love these for kids especially, since it's a satisfying snack that doesn't feel like junk food! 
Baked goods
Whether you're making a bake sale goodie or simply a loaf bread for your lunchtime sandwich, you can use hemp hearts in a variety of baking recipes too! 
The hemp hearts offer the perfect little "crunch" as a topper for this delicious, classic pumpkin bread recipe. 
No Bake Brownies with Hemp Seeds
They had us at "no bake," but no bake brownies that still taste delicious? Yes, please! 
Here is another healthier alternative to a typical heavy flour cake. Used for just about all of it, from the cookie base to the vanilla filling, you won't miss your old wheat-based cakes at all!
Ready to jazz up your lunchbox sandwich? Try this delicious homemade hemp bread and see if your lunch hour doesn't get much more exciting! 
Desserts
It shouldn't just be breakfast and dinners that get all the attention — why shouldn't desserts be delicious AND healthy, too?! 
Whether you call this recipe a dessert, a breakfast sort of smoothie, or just perfect for any time of day, we can all agree on one thing — it's SO delicious! 
To tell us that the cookies are healthier since they contain hemp is a win enough. But when you also tell us busy moms that they're no-bake?! Dreams really do come true! 
Chocolate Hemp Seed Bliss Balls
These might be the most accurately named food we've ever seen. Anything that's this healthy but still so gooey and delicious like a brownie is DEFINITELY considered bliss in our book! 
Summary: How to cook with hemp hearts
Hemp hearts are so versatile, that everything from raw snacking to gooey brownie-bite style desserts are possible! Cooking with them is definitely nothing to scare you, and should absolutely be on your meal plan for this week! 
Hemp hearts can be cooked by heating, toasting, baking, or used as a raw topping. Soak hemp hearts for a soft chewy texture, and add them to soups and smoothies. Hemp hearts work great for all meals and desserts.
When you're in a pinch and short on time, hemp hearts offer the protein you need. Hemp hearts contain the flavor and ease-of-use you want, and the satisfying taste and texture your family asks (ok, demands) of you! 
Stock up your pantry with hemp hearts by shopping our store on Amazon, through our site, at Walmart, or by using our store locator tool to find in a grocery store near you! 
When you're finished cooking up your hemp-happy storm, be sure to tag your kitchen creation on Instagram with @humminghemp or #humminghemp so we can see it and drool with you! 
Happy humming while you cook!