Nutrient-Packed Hemp Seed Pesto
Hemp Seed Pesto Is So Easy and Good
When it comes to comfort foods, you can't beat pasta. You might be thinking "pasta sounds great, but it will destroy my diet." Well, we've got some great news. Hemp seed pesto not only makes a delicious pasta sauce — but it's incredibly healthy and packed with nutrients that your body needs.
Homemade hemp seed pesto sauce contains hemp hearts, which give the sauce a rich, nutty taste. You can't argue the nutritional value of hemp seeds. Just one serving of hemp hearts contains over 12 grams of omega-3 and omega-6 fatty acids. Omegas are essential for the body to function correctly. Since we do not make these fatty acids, they must come from the diet. Hemp hearts contain the perfect ratio of fatty acids — 3:1. You deserve the goodness of hemp seeds in your life.
Hemp seed pesto sauce is very easy to make. It beats anything that you can find in a jar. Everyone will love it. If you're headed to a potluck — just toss hemp seed pesto with your favorite pasta. People will be complimenting your dish long after the party is over. They won't believe that it is secretly healthy. Just make sure you don't devour it all before you show up!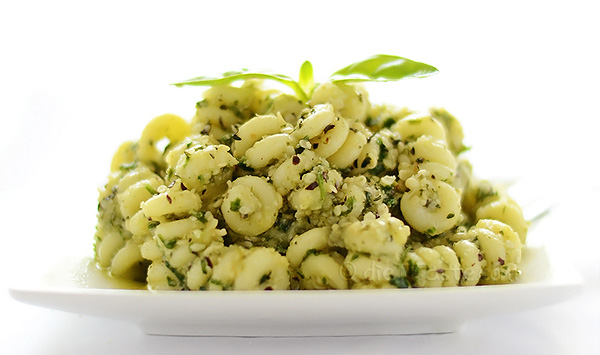 Try this Hemp Seed Pesto recipe.
It is an adaption of this one by Kitchen Nostalgia:
Ingredients
3 Tbsp of parmesan cheese
Black pepper and salt to taste
Instructions
Combine the hemp hearts, garlic cloves and basil leaves in a food processor. Pulse until the ingredients are roughly chopped.
Slowly add hemp oil, lemon juice, and parmesan cheese to the food processor and process on low until the mixture is smooth.
Season with black pepper and salt.
Top with parmesan cheese.
This versatile sauce can be kept in the fridge for seven to 14 days. Pesto is a great food to keep on hand at all times. There are so many unique ways to eat it. Plus, you get all the nutritional hemp hearts benefits with every serving.
This pesto sauce is so good that it deserves to go in more than one type of dish, which helps prevent unnecessary waste. Want some more hemp seed recipes? Try these quick and simple Pesto Grilled Cheese Sandwiches for lunch. Here are the directions.
Ingredients

8 slices walnut-raisin bread
4 tablespoons prepared pesto
¼ cup of soft butter
8 slices mozzarella and provolone cheese blend
8 slices tomato
Directions:
Take four slices of bread and spread each slice with one tablespoon of pesto sauce.
Put a slice each of provolone and mozzarella cheese. Then, top with tomato.
Put the remaining slice of bread on top. Butter the outside of each sandwich.
Toast each sandwich in a large skillet over medium heat for approximately three minutes each side. You'll know that the sandwiches are done when the cheese is melted, and the tops are golden brown.
There are many more possibilities when it comes to enjoying pesto sauce. All you need is a little ingenuity to turn this sauce into a delicious meal or snack anytime. Plus with the help of hemp hearts, the delicious choice is the nutritious choice!
Humming Hemp is the shelf stable super good superfood you deserve.  Grab our wholesome products from the shelves of your local GNC, Safeway, Albertson, or Fred Meyer.

Stay humming!